Your Road to Freedom: Guide to the Motorcycle Learners Practice Test in Victoria
Welcome to Stay Upright, your partner in achieving your motorcycle dreams in Victoria. If you've ever wanted to ride a motorcycle and need a license, you're in the right place. Our motorcycle learners practice test is designed for people just like you!
We understand that taking the first step toward riding a motorcycle can be daunting. That's why we have crafted a specially designed practice test in Victoria. Our guide to the motorcycle learners practice test in Victoria includes the following:
Structured Lessons:

Learn step by step with our easy-to-follow modules.

Realistic Practice Questions:

Get a taste of the actual test with questions designed by experienced riders.

Professional Guidance:

Our instructors will guide you through the practice tests, offering insights and feedback.

Flexible Timing:

Practice at your pace and convenience.

Assured Success:

Our proven success rate ensures you are on the right path to getting your motorcycle license.
By choosing Stay Upright, you are not just preparing for a test but embarking on an exciting journey towards freedom, adventure, and safety on two wheels. Let's get started on your motorcycle journey today!
If you have specific details or features from the webpage that you'd like me to include, please provide them, and I'll be happy to incorporate them into the content!
Whether you're a beginner or looking to improve your skills, we have something for everyone: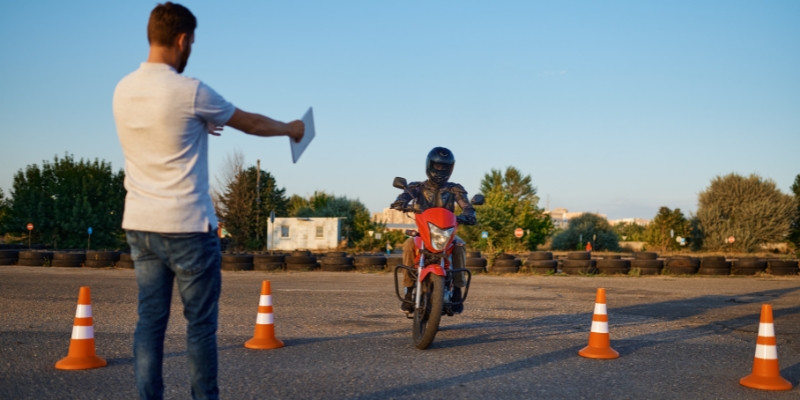 At Stay Upright, we believe that riding a motorcycle is not just about speed and excitement; it's about mastering control, nurturing responsibility, and embracing the thrill of the open road. Here's why we stand out as your ideal partner in the journey to riding excellence:
Personalised Learning: Tailored Lessons to Meet Your Needs
Assessment-Based Teaching: Our programs start with a detailed assessment of your skills to curate the best learning plan.

Flexible Schedules: We accommodate your availability to make learning convenient.

Diverse Courses: From beginners to experts, we have courses to match your level.
Qualified Instructors: Learn from the Best in the Field
Experienced Educators: Our instructors are seasoned riders with years of teaching experience.

Certified Professionals: Our team is equipped with certifications, ensuring top-notch training.

One-on-One Attention: You'll have direct access to our expert team, enhancing your learning experience.
Easy-to-Understand Lessons: Suitable Even for Grade 5 Students
Simplified Content: Our course materials are broken down into simple, engaging sections.

Visual Aids: We make use of videos, diagrams, and illustrations to help you grasp concepts quickly.

Interactive Teaching Methods: Our lessons are designed to be hands-on, helping you learn by doing.
Friendly Environment: Feel at Home While Learning to Ride
Supportive Community: Join a network of passionate riders who share your love for motorcycles.

Safety-First Approach: We ensure that our environment promotes safety, encouraging confident learning.

Convenient Locations: Our Victoria, Australia facility offers state-of-the-art amenities in a welcoming setting.
A Complete Guide to the Motorcycle Learners Practice Test in Victoria
Riding a motorcycle in Victoria, Australia is an experience like no other, and Stay Upright is here to guide you through it. Here's what we have in store for you:
Understand the Basics: We Cover Everything You Need to Know to Start.
Laws and Regulations: Learn all the legal requirements for riding in Victoria.

Essential Skills: We cover braking, turning, and more, all in a simple way.

Gear Introduction: Know what to wear and how to wear it for safety and comfort.
Practical Training: Hands-on Experience with Motorcycles.
Real Bikes, Real Training: Experience actual motorcycles, not just simulations.

One-on-One Coaching: Our instructors will work closely with you.

Safe Environment: Training takes place in controlled and supervised areas.
Mock Tests: Practice Tests that Mimic the Real Ones.
Realistic Scenarios: Experience tests that feel like the actual licensing exam.

Feedback and Improvement: We'll tell you what you did well and what you need to work on.

Unlimited Practice: Repeat tests until you're confident.
Assistance with Licenses: We'll Help You Get Legal and on the Road.
Application Guidance: The Stay Upright team is here to assist you with any questions you have about your applicationWe'll help you fill out all necessary forms.

Scheduling Support: We can assist in booking your official test.

End-to-End Support: From learning to license, we're with you all the way.
Stay Upright is committed to making your motorcycle learning experience in Victoria smooth and enjoyable. We've tailored our guide to the motorcycle learners practice test in Victoria to suit learners of all levels, making it accessible even to younger learners.
Joining us is as easy as 1-2-3:
Contact Us:

Reach out through our website or call us.

Choose Your Course:

Select the right course for your needs.

Start Riding: Embark on your thrilling motorcycle adventure.
At Stay Upright, we believe in empowering you to learn and ride. Our guide to the motorcycle learners practice test in Victoria is designed to suit all levels of riders. Come join us in Victoria, Australia, and let's turn your motorcycle dream into reality!